With just 10 days to go 'till Santa comes, Showbizmama has teamed up with some great brands to give you gift ideas to spread some cheer this Christmas.
Saving the best till last, it's not too late to make a last minute dash to get some fabulous pressies.
Here are some of our top picks.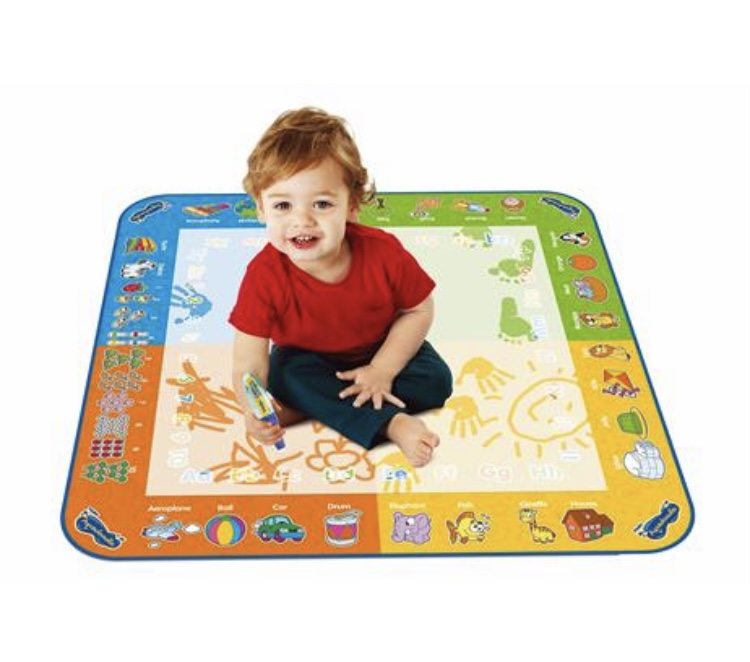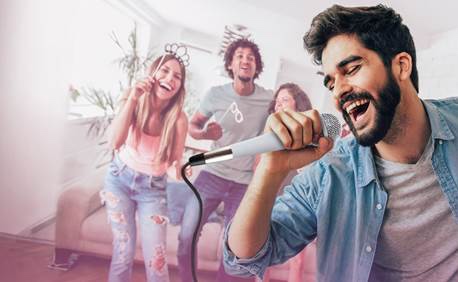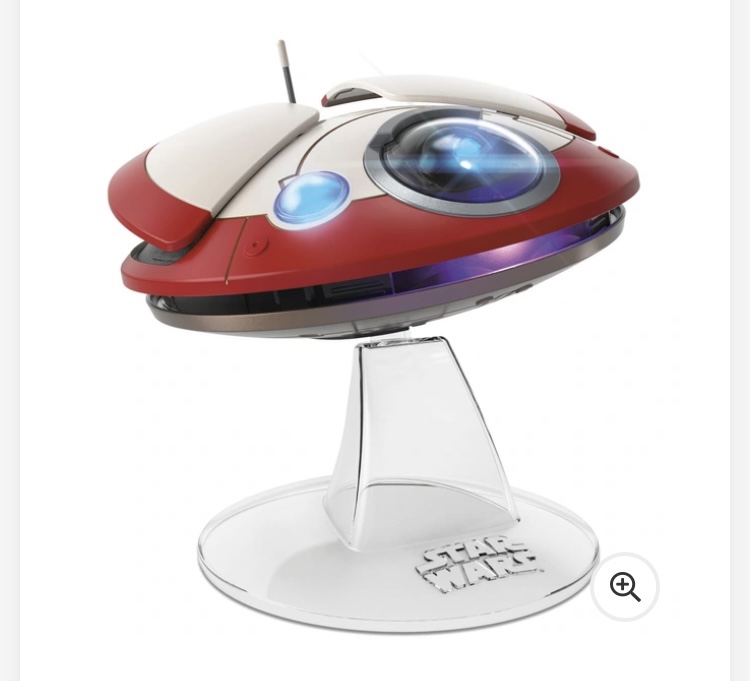 Lucky Voice Karaoke Machine
Who doesn't love a sing-song at Christmas?! Just in time, Lucky Voice have launched a hot new Karaoke Mic.
It has over ten thousand songs for those budding popstars with five funky voice effects,
Incredibly, it is portable too and lasts for four hours per charge, so it's ideal for a roadtrip.
Chose from vibrant colours, from hot pink, cool blue, to festive gold and Rose Gold.
It's super easy to set up the Lucky Voice Bluetooth mic too, just connect it to your phone and get the party going.
The latest machines and mics are both available to purchase from the Lucky Voice store, Hamleys and Selfridges
RRP £79.99-£89.99
Leapfrog loves learning
Leaprog's 2-in-1 Touch and Learn Tablet
Kids under five will go crazy for this number.
Especially if they love devices like my lot.
Here's just the toy that will keep them busy for ages.
Leaprog'a 2-in-1 Touch and Learn Tablet us a new twist on learning.You see, the genius is, that it is a pretend tablet. This two-sided, screen-free, toy comes with six double- sided pages with 14+ touch-sensitive interactive learning areas on each page. It will keep those little fingers happy and is great for their gross motor skills.
Kids will love reading along with the Pet Pal Puppies stories as well twisting and turning activity pages that teach shapes, animals, numbers, emotions and science too.
Check it out here
Price: £19.99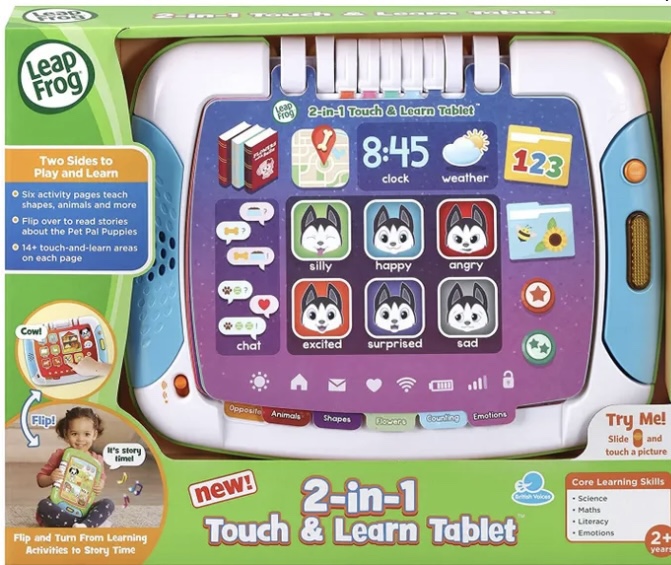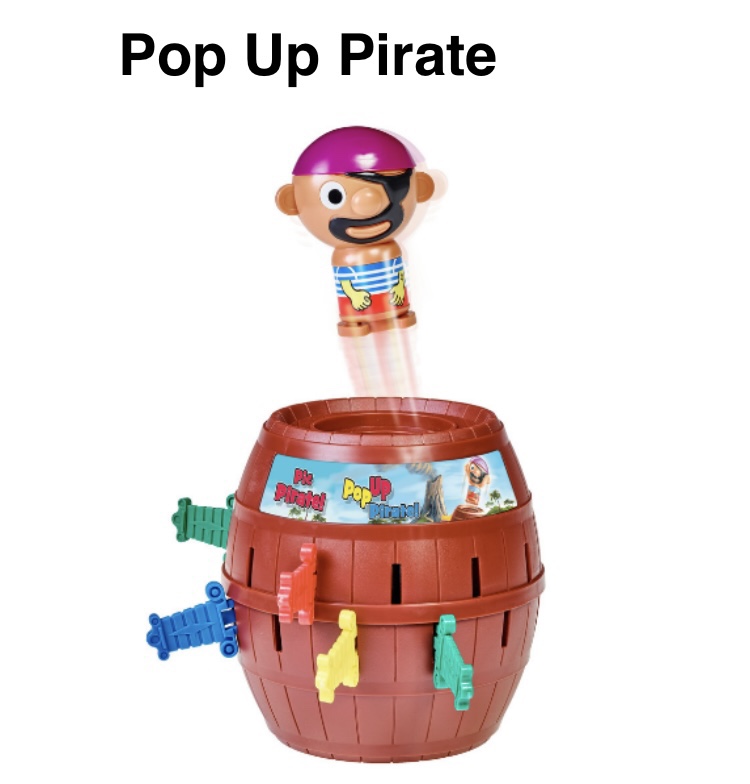 Tots love Tomy toys
Aquadoodle
Obsessed with this interactive Aquadoodle interactive mat, that's so clever to introduce your little ones to drawing in such a fun way.
They can learn to hold a pencil for the first time when making their first strokes as they create their own magical designs.
All you have to do is fill the Aquadoodle pen with water, run the nib over the magic mat and see the colours appear, so there's very little mess for grown ups to clear up. Phew!
There are extra surprises around the edges where kids will discover lots of different shapes and colourful characters.
Inside the border are hidden letters and numbers to trace and colour over – a great way to learn basic writing strokes.
Grab yours here https://www.smythstoys.com/uk/en-gb/toys/educational-toys/aquadoodle-super-rainbow-deluxe/p/167315
RRP: £20.99
Suitable for ages 18months+
Pop-up Pirate
Nothing beats a classic toy at Christmas to bring familes together for hours of laughter.
With people tighening their budgets, you don't have to spend a fortune either.
Love this Pop-up Pirate for kids 4 years and up.
This board game, which has been around since the 1980s, is great to get kids thinking and decision making.
Take turns shoving swords into the pirate's barrel, but careful not to explode him!
Check it out here https://www.smythstoys.com/uk/en-gb/toys/games-puzzles-and-books/board-games/children-s-board-games/tomy-pop-up-pirate/p/100166
RRP: £15.99
Suitable for ages: 4+ years
Stockists include: Amazon, Smyths, Argos, Tesco, Very
Big kids
Have fun with HASBRO
Star Wars L0-LA59 (Lola) Animatronic Edition
Star Wars fans will be in their element with this toy.
With its design and deco inspired by the Obi-Wan Kenobi live-action series on Disney, the Star Wars L0-LA59 (Lola) Animatronic Edition from Hasbro's Star Wars collection lets children and fans alike bring home an incredible droid companion. This high-end toy is the great to engage all ages. Just touch the censor on L0-LA59's head to activate more than 45 different light, sound and movement combinations through 3 modes of play. Unlock Companion Mode by attaching L0-LA59's legs, Hover Mode by attaching her stand or On the Go Mode by removing her from either base. Familes will love this adorable animatronic droid.May the force be with you!
Check it out here

Play-Doh Kitchen Creations Ultimate Ice Cream Truck Playset

Getting creative never got more cooler than with this awesome Playdoh kitchen.
Turn your play space into the ultimate Play-Doh ice cream van party! This life-size kitchen allows kids to create so treats with the 27 tools from their soft-serve station.They can be the owners of a make-believe restaurant, cooking up their own Play-Doh Christmas dinner for the family, while the grown-ups put their feet up for a change.Kids can customise the creations with the Play-Doh sprinkle maker, tools and pretend sweet moulds, and check out customers at the register. There's music too as kids serve up their pretend ice-cream to their customers.Hours of fun, right!

Check it out here https://www.amazon.co.uk/Play-Doh-Creations-Ultimate-Accessories-Realistic/dp/B09D5Y2WCY
Hot stuff
Kimos flask
Now it's freezing outside, this Kimos flask could be the ideal gift for those on the go.
It has revolutionized traditional thermoses by introducing a portable and quick way to boil water in just 3 minutes anytime, anywhere.
The cutting edge gadgt has a small vent hole in the top of the flask automatically opens when the water is boiling, allowing the steam to escape.
It's great for hiking, camping and those long winter roadtrips.Available on Indie gogo
Sweet treats
My Baker festive cakes
My Baker has launched a stunning range for Christmas and New Year. My Baker sells delicious home-made artisan cakes through a network of over 200 bakers across the UK.
For those looking to wow their guests with a delicious, beautiful and freshly baked cake, look no further than the My Baker Christmas and New Year range https://mybaker.co/collections/christmas-cakes. My Baker cakes come in a variety of flavours including red velvet, Victoria sponge, salted caramel, vanilla, lemon and chocolate. Next day delivery is available across the UK and Monday 19th December is the last day for orders before Christmas.
Snow good to be true
Festive fashion with @plt
Queue electric slide, queue Naomi Campbell walk, queue Love Island to lady-of-leisure style.
It's time to spruce up your winter wardrobe with @prettylittlething.com.
With fab new collections from Love Island's Gemma Owen, and Market Place fabulosity from Indiyah, there's just so much to chose from whatever your dress size – just style it up.
Whether it's on the small scale with just a gaggle of your girls, an office do, or whether you just want to look faaabulous as you cook up a storm on Christmas Day, they've got you covered at @prettylittlething.
From en-trend blazer glory, to sparkly dresses, cosy knits and the winter must-haves – matchy matchy pjs, PLT is a one-stop for ladies tiny or curvy, pregnant or pint-sized.
With ideas for Christmas that will have you wanting to get a whole new wardrobe, and you can, because the sales are crazy right now with up to 100 percent off on selected items, it's a great place to shop for gifts. Once you've bagged yourself a bargain first, obvs!
Check out https://www.prettylittlething.com
Raz-or toast
Pittbull Gold razor
If he's been good, I mean really, really good, then this is the gift that will get you lots of kisses under the mistletoe.
The Skull Shaver Pitbull Gold PRO Men's Electric Head and Face Shaver will spruce him up ready for the festive season.
Very slick, quick and easy to use, it comes in a classy cse with neat accessories to create that perfect finsh.
Very powerful, it only takes a few minutes to shave your entire head, and the results last a while before it's time for a quick touch up.
Great for travelling, or just even using in front of the telly with it's cordless feature, the Pittbull Gold comes highly recommended.
Check it out on Amazon here